Intelligent document logistics: organizing and utilizing know-how enterprise wide
Intelligent document logistics: organizing and utilizing know-how enterprise wide
Advantages for enterprises and employees
Make all important documents available on every workstation
Save valuable time when searching for documents
Protect valuable know-how
Speed up test and release processes
Comply with regulatory requirements much more easily
"Collaborative Product Development" study conducted by the VDI, Fraunhofer IPK and CONTACT Software
Intelligent document logistics: making knowledge available reliably
Single source of truth
CONTACT Documents organizes all the documents created during the lifecycle of your products – regardless of whether these are CAD models, manufacturing documents, multimedia files, customer documentation or e-mails. Dynamic folder structures and status monitoring provide a better overview and ensure reliability. Teams, projects and departments use the same documents: enterprise wide and at the press of a button
Making interrelationships transparent – documents as links
Documents are important links in your business processes. Assign your documents to projects, tasks, product components or quality issues. These simple connections to other business objects and their visual representation make complex interrelationships tangible and easy to understand.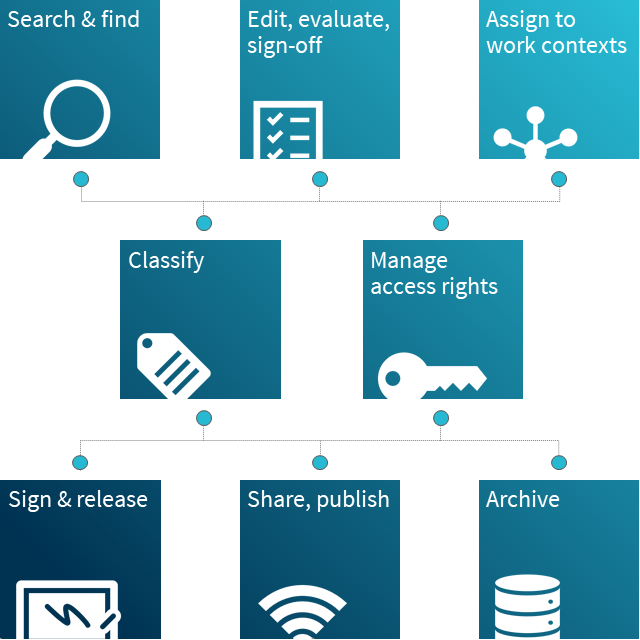 Finding instead of searching
Enterprise Search
The Google-like full-text and free-text Enterprise Search facility allows the entire enterprise document repository to be searched within a matter of seconds. In addition, functions like access rights, autocomplete, intelligent ranking and filtering according to the current status offer your employees further added value in their daily work.
Tool for power users
Searches using wildcards, metadata that can be used in any combination and the integrated preview provide faster results, even when dealing with complex search operations. Clear-cut folder and classification concepts, filter options, freely definable search "favorites" and dynamic project folders are other functions that power users in particular appreciate.
Protect your company's know-how
Predicative permissions system
Our authorization system, which is based on protection classes and rules, allows you to link access rights to roles and contents. This allows you to protect your enterprise know-how effectively – regardless of whether, for example, you are making documents related to a research project available to only a small circle of users or excluding certain sites from accessing detailed drawings for certain product groups. Create appropriate rules without the need for elaborate program code.
Speed up test and release processes
Workflows
Use the Workflow Designer to develop the appropriate templates for your processes easily and interactively. Make template libraries available to your departments and projects so that tasks can be performed faster and more reliably in a synchronized manner. In addition employees can define workflows as needed on an ad hoc basis. Use the automatic logging facility for end-to-end audit-trail capability and compliance.
Tasks and activities
CONTACT Tasks provides each of your employees with a complete overview of their current tasks. Direct access to the most important documents, context data and sign-off functions help tasks be processed and completed quickly and efficiently. The social media function CONTACT Activities allows your employees to coordinate with each other in the context of their tasks. The information is always available exactly where it is needed.
Comply with regulatory requirements more easily
Compliance in Process
Intelligent document logistics also means that all the steps in the lifecycle of a document can be verified. This is where the principle of compliance in process comes into play: Your employees do not have to record information separately in order to comply with various documentary requirements.
From the initial functional requirements, automatically fulfill and confirm compliance with regulatory requirements using best-practice templates. This ensures that your company meets compliance requirements along your entire processes faster and with significantly less effort.
Digital signatures
Digital signatures help create processes that comply with regulations and ensure the authorship and integrity of data and documents. CONTACT Digital Signatures allows you to meet even the strictest of obligations to provide documentation and ensure traceability. You also speed up your circulation procedures and simplify collaboration with suppliers.