Advantages for enterprises and employees
Seamlessly trace the lifecycle of PLM objects such as documents, requirements and articles with audit trails
Compile important regulatory documents conveniently in folders
Ensure regulatory compliance and improve product and system usage with digital life cycle records
Track the lifecycle of PLM objects such as documents, requirements and articles with audit trails
In addition to ensuring product quality, the seamless tracing of the product development process is another vital necessity. When a PLM object is first created, the first entry is written to its audit trail. Every addition, deletion and editing of PLM objects such as documents, requirements, workflows or articles as well as all status changes and changes to the metadata are automatically logged in the audit trail. This means that you continuously and synchronously log all the events in the lifecycle of an object, complete with the date, time and person responsible – with the result that all changes to important regulatory documents or other objects are seamlessly traceable.
Audit trail logs all the events in the lifecycle of a an object
Compile important approval documents conveniently in folders
To gain approval for a product, it is now frequently necessary to provide several thousand obligatory documents to the regulatory authorities. Alongside automatic logging due to the audit trail stored with the individual documents, the flexible folder concept also makes it possible to bundle all the required documents together automatically (for example based on object rules).
Folders as universal containers with their own lifecycle
In the context of change records and audit trails, folders act as universal containers that can hold any number of documents in any format. The documents are updated automatically when the version of the folder content changes. What is more, you can link the folders as you wish and re-use their rules and structures. In addition, the folders themselves possess their own lifecycle together with an audit trail so that the folder's history is also seamlessly documented.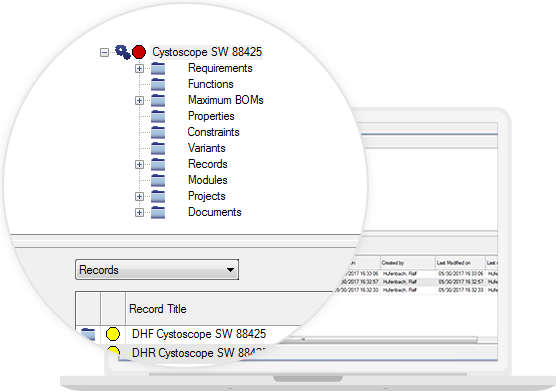 Ensure regulatory compliance and improve product and system usage with digital life cycle records
A whole range of information is generated for each product, regardless of whether it is a component or a complete system. Whether planning documents, orders, tasks, key indicators, engineering drawings or BOMs – all this information forms part of a product's lifecycle. Use digital lifecycle records to bundle together all this information so that all the knowledge you need about your products and their development is available at all times. This ensures that you will always be able to provide evidence of the state of your product development to the approval authorities and meet other compliance requirements.
Lifecycle engineering improves product utilization
Plants, infrastructures and traffic systems must be operated securely, economically and in an environmentally responsible way over a period of decades. Ensure the long-lived, profitable use of your products through efficient information management based on digital product models and digital lifecycle records. Models such as lifecycle engineering (LCE) provide the basis for end-to-end support in all a product's lifecycle phases from engineering and production to utilization right through to the recycling of the raw materials. In addition, with LCE-based procedures, you will prepare yourself for the growing importance of digital business models such as serviced-oriented IoT applications, for example in the maintenance field.
Intelligent document logistics: organizing and utilizing know-how enterprise wide
Make all important documents available on every workstation
Save valuable time when searching for documents
Protect valuable know-how
Speed up test and release processes
Comply with regulatory requirements much more easily
Faster, more reliable availability of project, product and customer documentation
Use integrated project and document management and best practices for your documentation
Integrate in-process documentation in the project plan intelligently and avoid time-consuming subsequent modifications
Automatically generate documentation of deliverables
Record and eliminate complaints and shortcomings in the product or project context
Improve customer satisfaction and reduce series ramp-up costs
Implement an end-to-end process from the recording of errors to their rectification through to the archiving of solutions