Advantages for enterprises and employees
Targeted information distribution with contextual reference
Tailored delivery of information across the entire company
Encourage employees with a new user experience
Enable your employees to provide targeted information distribution with contextual reference
The advent of web interfaces means that people working in product development expect not only rapid search results, but also other features they are familiar with when using the web, such as functions similar to those available on social media. They want to quickly distribute important information to all those involved in a project, discuss a change or provide informal feedback about a colleague's document. With Activity Stream, they can do all this as easily as with traditional chat programs.
Distribute information, discuss issues and group distribution lists as required
Activity Stream allows your staff to share objects, make information available and participate in discussions in user groups of any size and organized by product, project, assembly or any other objects or topics. Everyone involved will always have the same information available to them. Email communication devoid of any context is a thing of the distant past. Make it easier for your project teams to exchange information and coordinate their work! Make the needs-driven distribution of information straight from your employees' work context into the new standard for a modern working environment.
Using social media standards in product development – acting with top information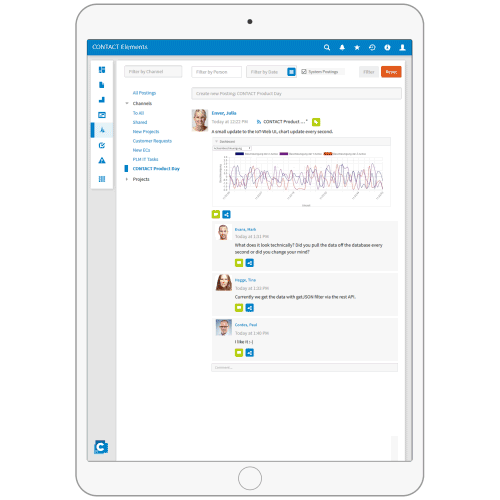 Ensure a tailor-made information service throughout the company
Activities allow you to achieve optimum control of the distribution of information across the company. Your staff are able to manually subscribe to information about products, projects or other objects as well as to information from channels on specific topics, such as the market and competitors. This function is comparable to a newsfeed collector for smartphones or tablets. At the same time, you can set up automatic subscriptions centrally on the basis of roles and membership. This will supply your staff with information specific to their projects, departments or tasks.
Auto-generated messages
Important events relating to objects and channels to which a user is subscribed are logged by the system and displayed in Activity Stream, for instance when a document is released or a milestone has been reached. You can configure the events that appear in the activities centrally. Your staff can also tailor the way the information is displayed to suit their needs. Occasional users of Activity Stream can also receive a daily digest of the activities by email.
Simply subscribe to channels as needed to create custom newsfeeds
Inspire your staff with a state-of-the-art working environment for the product engineering process
Activities allow you to do justice to the use of modern media and at the same time provide your staff with a working environment commensurate with the complexity of product engineering. As an integral component of the CONTACT Elements platform, this team-oriented social media component is specifically tailored to the processes in development and project organizations.
Chronological representation
The timeline and logic are shown for all activities related to objects and topics. The system can add information to this stream automatically, for instance following approval or changes. Inspire your staff with a new user experience!

Effectively promote agile proceedings in projects by supporting hybrid methods
Flexibility, speed and process reliability through optimal combination of agility and reliability
Effectively promote self-organized procedures with task boards and agile task processing
Support Scrum, Kanban and interval methods
Seamlessly link classic management with agile work practices
Support planning and implementation equally