Advantages for enterprises and employees
Improve customer satisfaction and reduce series ramp-up costs
Implement an end-to-end process from the recording of errors to their rectification through to the archiving of solutions
Improve your customer satisfaction and reduce series ramp-up costs through integrated defect management
CONTACT Elements Quality Issue Management permits the efficient processing of problem reports during test procedures, in series ramp-up and from customers directly in the product or project context. Compliant with quality standards such as EN ISO 9001 and ISO 16949 with regard to the requirements placed on the documentation and traceability of claims and complaints and compatible with the internationally proven 8D methodology, it will enable you to process complaints and eliminate product defects. You will benefit from increased customer satisfaction and lower series ramp-up costs, as well as quicker readiness for series production as the result of targeted defect and error elimination.
Implement defect management based on 8D with task control quickly and easily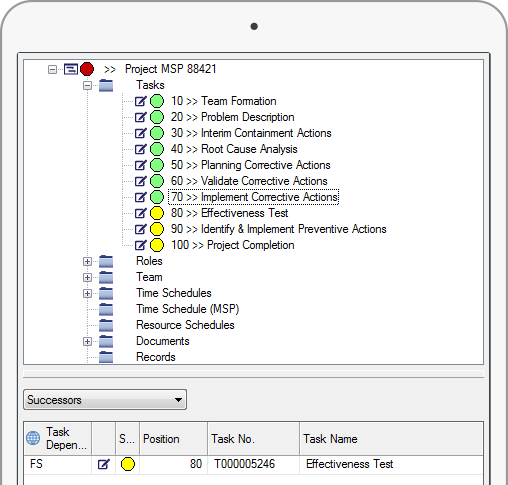 Implement an end-to-end process from the recording of errors to their rectification through to the archiving of solutions
With Quality Issues, implement an automatically initiated process to respond to the occurrence of product defects or errors. To do this, use standardized workflows to store best practices and guidelines that map your solution strategies to your processes. This enables you to record and evaluate errors efficiently and speed up error correction measures through checklists, tickets, direct access to test reports and certificates, for example for supplied parts, as well as through links between defects and the actions taken to remedy them. Extensive analytical capabilities, the construction of a solution archive based on the history of actions and a direct link to CAD, ERP and customer master data make Quality Issues the basis for your efficient quality and defect management approach.
Recording and evaluating errors with CONTACT Elements Quality Issues
Fulfilling requirements to the letter
Document ideal procedures in a digital library
Use proven methods and sets of guidelines such as CAPA, 8D or APQP
Give your employees a way to apply process-related knowledge easily and reliably
Proactive risk management: Protection through prevention and active control
Secure your projects through proactive risk management
Make project and product risks visible and define measures
Meet product and process quality requirements with less effort