Advantages for enterprises and employees
Document ideal procedures in a digital library
Use proven methods and sets of guidelines such as CAPA, 8D or APQP
Give employees a way to apply process-related knowledge easily and reliably
Document ideal procedures in a template library
Processes that are optimally tailored to meet the specific needs of each company are one of the most important factors of success. Best Practice Process Templates allows you not only to extend your product structure to achieve specific targets but also to greatly reduce the effort involved in meeting regulatory requirements. Document ideal procedures, guidelines and sequences of actions to fulfill requirements.
Process conformity
Design your processes without difficulty using templates and system-based workflow management in conformity with the guidelines set out in proven statutory and industry quality and risk management standards. In this way, you can implement sequences and procedures for corrective and preventive actions in accordance with CAPA, identify, correct and eliminate problems with 8D, or undertake actions for to avoid errors using APQP and FMEA.
Implement measures such as CAPA quickly and easily using templates and improve product quality
Use methods and sets of guidelines such as CAPA, APQP and 8D
Store CAPA templates and initiate actions to eliminate non-conformities during live operation of your products. Record non-conformities, analyze them and derive actions for their prevention and elimination. CONTACT Elements makes use of the "compliance-in-process" principle to implement the APQP guidelines by means of accompanying, in-process documentation and efficient process control. In this way, you can fulfill APQP requirements without problem. Alongside CAPA and APQP, you can map the specifications from many other standards using Process Templates and integrate them easily in your projects and processes.
Systematic elimination of errors and non-conformities with 8D
The 8D model is a quality management process that allows you to deal with errors and non-conformities during product use. You can use Process Templates to map the eight disciplines to your processes easily and in a way that is specifically adapted to the potential problems that may arise – using template libraries, checklists and forms and by creating suitable workflows. CONTACT Elements makes it possible for you to document and provide proof of 8D compliance and measures taken at any time. The approach based on the 8D model ensures reduced series start-up costs through the rapid identification of errors and non-conformities and increases customer satisfaction through enhanced product quality.
Use 8D methodology for the task control-based elimination of errors and non-conformities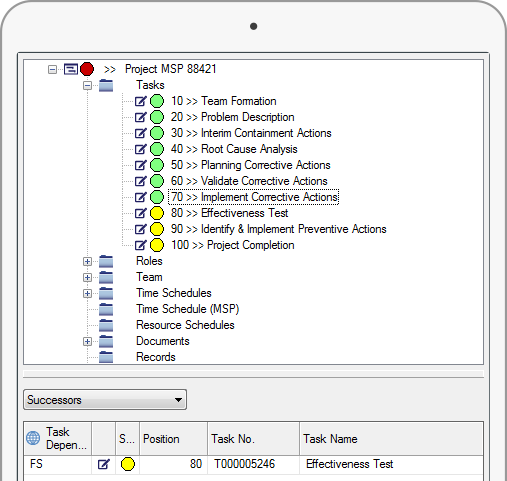 Give employees a way to apply process-related knowledge easily and reliably
You can use Process Templates to make the interdependencies between any required objects transparent and in this way create the basis for a uniform approach by your staff. With an enterprise-wide template library representing your best practices, you can reliably make your process knowledge and enterprise know-how available and encourage their use.
Intelligent information logistics
Process Templates makes sure that the right information is directly available to the right employees at the right time and in the right place: whether in the form of a checklist, a document containing procedural instructions or recommended actions, or simply an inspection form for processing. Thanks to the intelligent information logistics offered by CONTACT Elements and flexible template management with Best Practice Process Templates, you can use a modular methodology to design your processes in a way that complies with guidelines and simultaneously gives you outstanding efficiency for agile development processes.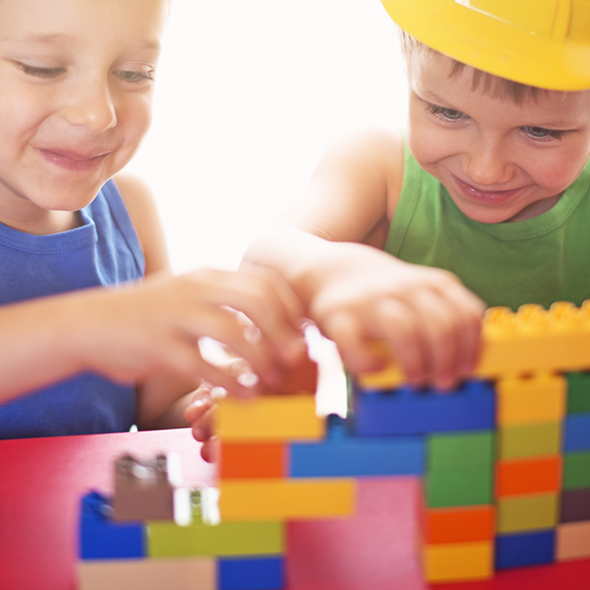 Record and eliminate complaints and shortcomings in the product or project context
Improve customer satisfaction and reduce series ramp-up costs
Implement an end-to-end process from the recording of errors to their rectification through to the archiving of solutions
Proactive risk management: Protection through prevention and active control
Secure your projects through proactive risk management
Make project and product risks visible and define measures
Meet product and process quality requirements with less effort