CONTACT's IoT platform is "Factory Software of the Year"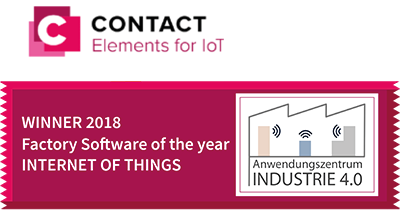 The renowned Application Center for Industry 4.0 at the University of Potsdam has evaluated and selected the leading solutions in its "Factory Software of the Year" competition. The finalists presented their software in mid-February at the Factory Software Congress 2018 in Frankfurt. The winners in the various categories were CONTACT Software (Internet of Things), CSB System (complete ERP solution), Jungheinrich (logistics), software4production (Industry 4.0) and ZF Friedrichshafen (process excellence).
CONTACT Software convinced the jury of consultants, scientists and media with its clear commitment to open source components and the innovative life cycle approach of its open Elements for IoT platform. Their coordinated software building blocks help the industry to develop smart products for the Internet of Things and to implement new value-added services such as predictive maintenance.
The jury evaluated the presented solutions according to differently weighted criteria. The concrete customer benefit of 23 percent was decisive, followed by adherence to standards and interoperability of the solution (22 percent). Platform suitability was weighted at 17 percent. Further criteria were investments in research and development as well as in customer communication.
"All participants in the competition have demonstrated a high level of solution competence with regard to the digital tranformation," said Prof. Dr. -Ing. Norbert Gronau, Scientific Director of the Application Center Industry 4.0 at the University of Potsdam and Chairman of the jury, at the award ceremony. According to Gronau, this output density proves impressively that German companies are also highly competitive internationally in the field of digitization.