Advantages for enterprises and employees
Enable customers and partners to access the product portfolio
Automatically merge product data from sources such as ERP and PLM
Publish product information simply and securely
Automatically combine data, text and images to create online and print content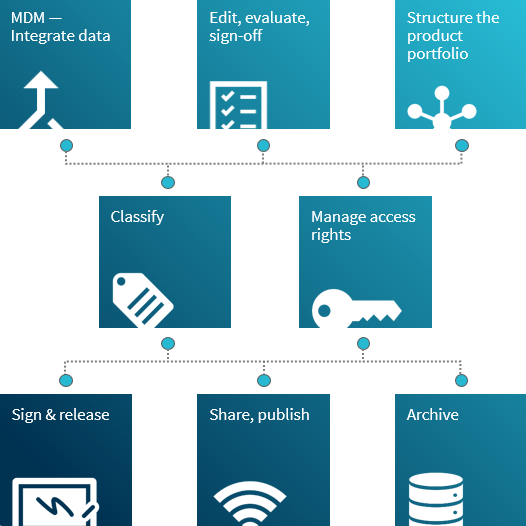 Enable customers and partners to access your product portfolio
The Product Information Management (PIM) solution allows you to provide Marketing, Sales and Order Management with the latest information about your products. To do this, the data from different sources is merged, edited and, for example, made available to your customers and partners in web catalogs. Reliable automated processes, workflows and harmonized access protection simplify this process and make it secure.
Automatically merge product data from sources such as ERP and PLM
Efficient master data management (MDM) ensures that all the necessary data from different sources such as PDM, PLM, CRM and ERP systems is merged. Use CONTACT Elements' Catalyst technology for this purpose as it was designed for this task. You can also use the extremely powerful attribute and classification system to systematically structure your product portfolios and assortment of spare parts in line with market requirements.
Merge with data from the ERP system, in this case SAP
Make publishing your product information simple and secure
Incorrect information in publications can have serious implications. Therefore use tried-and-tested procedures for validating data, the role and permissions system for assigning editing and reviewing tasks, and digital workflows for secure execution of the individual work steps. Audit trails ensure that all changes to documents are logged automatically. If certain information is particularly critical, you can also use the legally-compliant digital signature procedure.
Automatically combine data, text and images to create online and print content
Informative catalog data merges product and performance attributes, editorial texts, images, drawings and 3D representations. Customers and partners are also provided with digital access to documents such as manuals, change information and so on. Use our powerful technical document management system (DMS) and our 3D Connect model engine, which provides native CAD data in widely used standard formats such as PDF and 3D PDF. You can also use powerful libraries and template mechanisms like Enrich PDF to automatically compile documents in the desired target formats.
Advantages for enterprises and employees
Make all important documents available on every workstation
Save valuable time when searching for documents
Protect valuable know-how
Speed up test and release processes
Comply with regulatory requirements much more easily
Advantages for enterprises and employees
Increase your reuse levels through parts classification and cut your costs and parts diversity
Speed up your parts searches based on characteristics and visual navigation
Advantages for enterprises and employees
Determine the variability in product management and engineering
Define complete variant models quickly and easily
Supply the correct items, BOMs and model data automatically to downstream processes.