Report - October 7, 2020
New e-learning: The tailored knowledge platform for your company
When introducing software, it is important to pick up all users well. CONTACT's new e-learning supports this with customized training: The course contents can be flexibly adapted to the enterprise processes, are available on request in any common language and are automatically updated with software innovations.
CONTACT's new e-learning platform based on HTML 5 is an ideal complement to our classroom training. It enables users to continuously deepen their knowledge of CIM Database PLM, Project Office and CONTACT Workspaces - no matter if on PC, tablet or smartphone.
Thanks to their responsive design, our online courses adapt to any device and can be used as required, regardless of time or place: as interactive training for new software, to refresh knowledge or while working for a quick help search on a specific task.
Users can track their own learning progress via the personalized e-learning dashboard and, if necessary, go through individual contents again.
It is planned to add further content to CONTACT's digital training program step by step. In the future, we will also offer courses on the operation of our products, covering administrative topics such as initial installation or the configuration of services.
In the following, we will briefly present the advantages that our new e-learning offers your company.
Individual layout
Many companies want user trainings that are tailored to their processes and system environment. This is quickly realized with the new CONTACT E-Learning. The data objects, workflows, masks, catalogs and much more predefined in the standard can be changed flexibly. Customers can also easily embed own learning content into the platform. Companies can carry out the adaptations themselves or commission us to do so.
Intuitive navigation
Targeted linking of courses makes it possible to take up learning material in a new context. The various training modules can be connected to create an individual program for different learning groups. In addition, the content can be supplemented with interactive elements such as forum, glossary, info boxes, tasks, FAQs or videos to provide users with additional support.
In the classic PC client, CONTACT E-Learning is simply integrated into our software as a single operation so that users can quickly access the portal. In the web client, there will also be even more possibilities, such as linking specific short contents at certain points.
Automatic updates
All learning materials always reflect the current status of our software products, since every new feature is automatically uploaded to the customer environment after approval by our development department. This ensures that the users of our e-learning platform are always up to date and their knowledge does not become outdated.
Multilingual usage
In the standard version we deliver our online training in German and English. However, the user interface is also available in all other common languages. The course content can be translated by the customer or by us if required.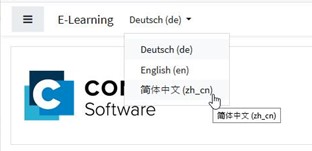 Rental instead of purchase
Last but not least, our new e-learning offer is characterized by an attractive and flexible rental model: Companies select the packages they currently need and add others as necessary. The term of the contract can also vary according to your wishes: from a few months to years.
The new CONTACT E-Learning for users is available immediately. If you would like more information, our training team will be pleased to support you.