3D printing: Quality management in additive manufacturing
CONTACT supports a new research project aimed at making 3D printing processes safer and better. To this end, we are contributing our expertise in industrial IoT applications, the CIM Database PLM software and CONTACT Elements for IoT to the QualiPro 3D project.
Additive manufacturing or 3D printing is a relatively new technology that is becoming increasingly important. Their advantages over conventional production are obvious: tool-less production, material efficiency, freedom of design, shorter delivery times, rapid construction of prototypes and small series up to individual products.
Seizing market opportunities
In the context of digitalization, customers and manufacturers are increasingly networking themselves directly via the Internet of Things (IoT) - both in the B2B and B2C sectors. As a disruptive technology, additive manufacturing offers more and more industries the opportunity to establish new business models. Today, forward-looking companies are already supplying (spare) parts by streaming data directly to their customers' 3D printers. This is just one example of the enormous potential of generative methods. The McKinsey Global Institute estimates that this will generate USD 230 to 550 billion in revenues over the next few years1.
Many manufacturers still lack the practical experience to use additive-generative technologies in series production. This is where the research project QualiPro 3D – Quality Management for safe and robust additive production – comes in.
The project
Process stability is of immense importance for a manufacturing process. It ensures that high quality components are reproducible and helps to avoid costly scrap. Strict quality management is essential – but this must not lead to a negative impact on the ability of companies to act. Fast throughput times, high flexibility and machine availability and a continuous increase in performance in general are important prerequisites for success on the market.
QualiPro 3D is developing a process accompanying inline quality assurance system, which offers a promising alternative to the usual downstream component testing. The manufacturing process is monitored by sensors, which enables the rapid implementation of quality assurance measures during production.
The research topic is additive manufacturing in powder bed with focus on laser beam melting (LBM). The aim is to transfer the knowledge gained in this process to laser-sintering (LS) in order to promote a broad industrial application of generative processes. The project also aims to strengthen production in Germany as a high-wage location and to maintain and create new jobs for companies and their suppliers.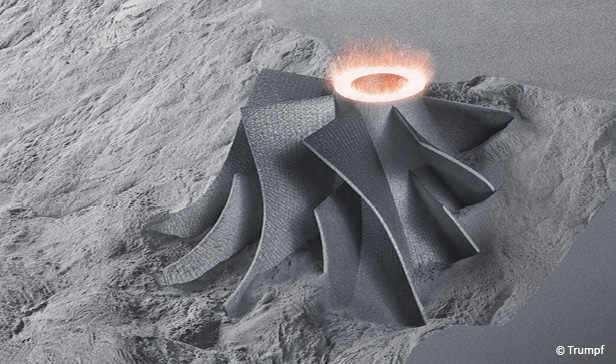 The methodology
During additive manufacturing, relevant process parameters such as air humidity, room temperature, vibration, etc. are monitored and collected. By linking this data with other quality-relevant information, such as the condition of the plant or information on raw materials, it should be possible in the future to draw conclusions about component quality at an early stage and, if necessary, to initiate quality assurance measures.
In the context of Industry 4.0 and IoT, consistent data management in the additive manufacturing process represents a particular challenge. Intelligent structured data, for example, which makes it possible to identify technical correlations, are a prerequisite for developing suitable algorithms for the analysis of 3D printing processes.
As associated partner of QualiPro 3D, CONTACT Software is providing the technology platform CONTACT Elements for IoT and CIM Database PLM, and supporting the consortium with relevant expertise from industrial practice.
In a possible application scenario, CIM Database PLM supports data logistics and data management with regard to information from the product development process. This includes the management of geometry models as well as the visualization of point clouds from the QA processes in the PLM system. CONTACT strives for "closed-loop engineering" by systematically and quickly returning the information from quality assurance back into the PLM process.
The aim of the project consortium is to enable companies in the field of additive manufacturing to obtain ISO 9001 certification - which is an important competitive advantage especially in safety-critical industries such as medical technology or the aerospace industry.
The Consortium
The consortium consists of well-known companies and research institutes. Industrial partners include the Airbus subsidiary APWorks, the start-up company AM Metals, the plant engineering company Trumpf, Siemens and the software manufacturers CONTACT and Symate. The Technical University Dresden and the Fraunhofer Institutes IFF (Factory Operation and Automation), IPK (Production Plants and Design Technology), IWS (Materials and Blasting Technology) and IWU (Machine Tools and Forming Technology) are contributing the scientific experience.